Run to the Manger!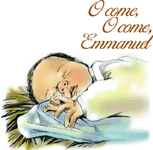 It's Christmas time! For many, that means dashing about, putting up decorations, buying presents, sending the perfect Christmas card, preparing a grand meal. So many things to do, and it all seems to be happening at once. But don't forget! We've got to make sure to squeeze in time to go to church on Christmas.

Sound familiar? How easy it is to get lost in the details and hustle and bustle of the season, so much so that we lose sight of the most important focus, Jesus himself. Worshiping him becomes can become the secondary focus for many. So, I thought it might be nice to take a look at the first group who got to worship him when he was born and take a look at their response.

After Jesus' birth, the angels appeared to shepherds in the fields nearby with news of the Savior's birth. 15 When the angels had left them and gone into heaven, the shepherds said to one another, "Let's go to Bethlehem and see this thing that has happened, which the Lord has told us about."
16 So they hurried off and found Mary and Joseph, and the baby, who was lying in the manger. 17 When they had seen him, they spread the word concerning what had been told them about this child, 18 and all who heard it were amazed at what the shepherds said to them. (Luke 2:15-18)

They were so excited that they left immediately to see him. They didn't have to stop and think about how they would find time to squeeze him into their schedule, though they were in the middle of carrying out their duties. Their first priority was praising God. That's shown, also, in the fact that they told everyone they could about the wondrous things they had seen and heard, because how could they keep such amazing news to themselves!

My prayer for you and for me this Christmas season is that God help us to rejoice just as much in the chance to praise and worship him for coming into this world to be our Savior from sin. May he be our first priority and our motivation for sharing the joy we feel, not only this season, but in every season. Amen       
In Christian love, Pastor Wolf B. Parsons
Pastor Parsons Contact Info
Pastor Parsons' cell phone number is 715-584-2912
Email:  yourparsonparsons@gmail.com 
Church Office:  507-643-6381  
Please be sure to let him know if anyone is hospitalized and needs a visit.