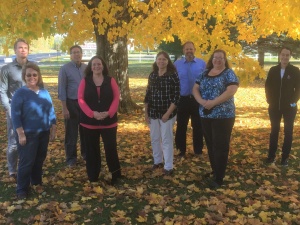 Teaching God's Children about God's World in light of God's Word.
At St. John's Lutheran School, we are blessed to have a very dedicated staff with many years of experience. Most of those years have been right here at St. John's.
Dennis Harbach – Pastor
Dennis Harbach graduated from Wisconsin Lutheran Seminary in May 1993.  He served at St. James Lutheran Church in Prairie du Sac, Wisconsin for 10 years. Pastor Harbach came to serve St. John's Lutheran Church of Nodine, MN, in August 2003. Pastor Harbach and his wife, Allison, have six grown children:  Jeremiah, Susanna, Chloe, Matthew, Michaela, and Jonathan.

Mark Kutz, Principal -Principal, Grades 7-8
Mark Kutz graduated from Martin Luther College, New Ulm, in 1994. He previously taught at Niles, Illinois and Sturgis, Michigan. He and his family came to Nodine in July 2004. Mark and Heidi have three children, Joshua, Ben, and Katie.
Mr. Kutz is Principal and teaches Grades 7-8.
Richard  Eckmann – Athletic Director, Grades 5-6
Mr. Eckmann is a recent graduate of Martin Luther Collge – May 2020.  He is teaching grades 5-6 and is also our Athletic Director.
Julie Beach – Grades 3-4
Julie (Zeamer) Beach came to St. John's in 1987 after graduation from Martin Luther College, New Ulm.  She taught grades 1-2 for 6 years. She married Brian Beach of Dakota, MN in 1992, and resigned from teaching in 1993. Julie and Brian have two grown children, Cody and Carissa. Julie returned to the teaching ministry in 2004. She teaches Grades 3-4 and directs the Church Choir.
---
Laura Schaper – Grades 1-2
Laura (Adamczyk) Schaper also graduated from Martin Luther College in 1995. Her previous teaching was at Trinity in West Bend, WI, in 1995 and 97-98 PreK in Cudahy, WI. She was called to teach Grades 4-5 at  St. John's in 1999. She has been our 1-2 Grade teacher since 2001. Laura and her husband, Brad, have two children, Aaron and Addison. Brad is a teacher at Luther High School, Onalaska, WI.
---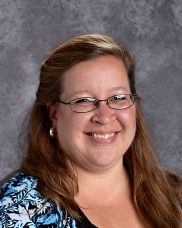 Kathy Miller – Kindergarten
Kathy (Dobrunz) Miller is our Kindergarten teacher.   She is also an Orton-Gillingham Reading Tutor.  Kathy is a life-long member of St. John's and former student. Kathy has also taught Sunday School  and is a Patriot Parent volunteer. Previously she taught in Waterloo, WI and Caledonia, MN. Kathy is married to  Jeff Miller.  
Kathy and Jeff have 4 children, Joshua, Klarissa, Justin, and Karly.
---

Nickie Buege -PreKindergarten
Nicole (Schossow) Buege  is our Pre-Kindergarten teacher.   She is a life-long member of Grace Lutheran church, Ridgeway. Nickie has been a Patriot Parent volunteer and is also an Orton-Gillingham Reading Tutor.  Previously she taught Preschool in LaCrosse, WI. Nickie is married to  Brad Buege.   They have 4 daughters, Allison, Rianna, Mallory, and Baylee.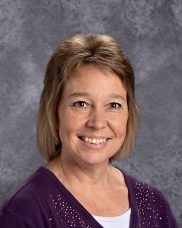 Tracy Heyer – Administrative Assistant
Tracy (Richards) Heyer has been Administrative Assistant at St. John's since 2003.  She also served as a Sunday School teacher for many years.  Tracy is originally from Yucaipa, California.  She is married to Dean Heyer and lives in Nodine.  They have five grown children: Christina, Seth, Aaron, Henry, and Melissa and two grandsons, Amari and Arthur.